Jumpstarts are Here!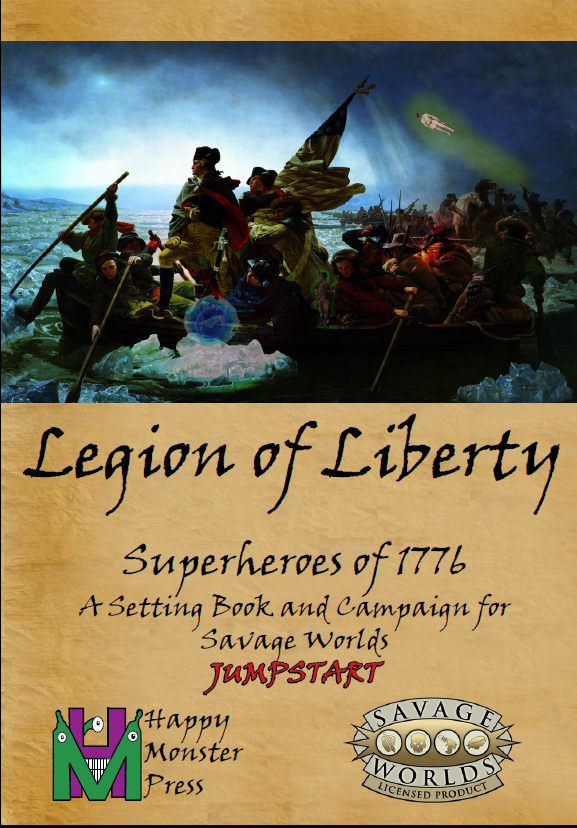 Those of you who backed the Kickstarter for Savage Worlds Adventure Edition received a bundle of Jumpstarts today. In that bundle you'll find a Children of the Apocalypse Jumpstart that shows some of the changes we plan for Children of the Apocalypse Second Edition. In addition to updating Children of the Apocalypse for Adventure Edition, Second Edition will also add new content, rules for trading, and new Tinker Mage inventions.
The same bundle also contains a Jumpstart for Happy Monster's next setting book, Legion of Liberty: Superheroes of 1776. This setting adds superpowers to the American Revolution, with colonial Patriots facing off against superhuman British enemies. Legion of Liberty will be Kickstarting in March (just weeks away), and will include new powers, new Edges and Hindrances, and a complete Plot Point campaign where the players' actions will determine the course of the war… and of history.
If you didn't back the Kickstarter for Adventure Edition, never fear – both Jumpstarts are now available FREE on DriveThruRPG. Links to both are below:
Legion of Liberty: https://www.drivethrurpg.com/product/264808/Legion-of-Liberty-Jumpstart

Children of the Apocalypse: https://www.drivethrurpg.com/product/264807/Children-of-the-Apocalypse-Jumpstart

If you DID back the Kickstarter, check out all the other amazing Jumpstarts in the first bundle as well. There are some amazing settings out there!
​Happy Gaming,
Scott